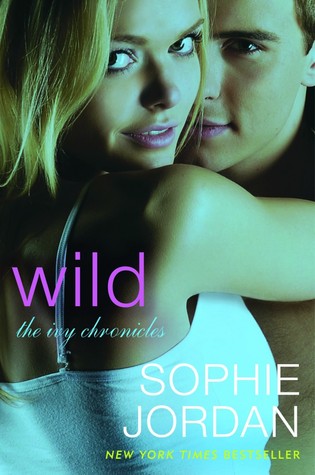 Wild
The Ivy Chronicles #3
by Sophie Jordan
Published on November 18th 2014
Avon, 288 pages
A good girl goes fabulously bad in the final book in New York Times bestselling author Sophie Jordan's sexy New Adult romance series, in which three Ivy League suite-mates seek higher knowledge of just how far they can go.
Months after her boyfriend dumped her, Georgia can still hear the insults he hurled at her. Boring. Predictable. Tame. Tired of feeling bad, she's ready to change her image, and go a little wild. What better way to prove her ex wrong than a hot night of sexual adventure at the secret campus kink club?
In the shadowy den of the kink club, she unexpectedly runs into Logan Mulvaney, her friend's little brother. A player extraordinaire too hot for his own good, he may be younger, but the guy is light years ahead when it comes to sexual experience. Now he's telling her to go home—"good girls" don't belong here!
Georgia is tired of having others define her. She's going to teach Logan a lesson he won't forget—one white hot, mind-wrecking kiss . . . that leads to another . . . and another . . . and. . . . Realizing she's way in over her head, Georgia runs.
Only Logan won't let her go. Everywhere she goes he's there, making her want every inch of him. Making her forget who she is. Who he is. And just how wrong they are for each other.
-
Goodreads.com
description
As you probably know, I completely adored Foreplay! Tease was great as well. But I must say.. Wild was probably my favourite one. I re-read it a few times already this year.
Georgia. I fucking loved Georgia. She is tired of being boring and she takes her life in her hands and starts to actually live. She dares herself to be more and do more and she does! Sometimes she is a bit overly dramatic about Logan, but damn, I can't blame or resent her for that, cause I get it. And I also just like her too much.
Logan. Holy hotness. Logan. I dream about this guy. Honestly. This guy is wow and I wish he was real. No matter how many times she pushes him away, he never gives up on her. Never. And he is so open-minded and honest and I just melted reading about him. And he deserved to finally be happy.
The romance was ... passionate. Aggressively so. With all the pushing back and forth. But I loved it. God knows I understand the fear of being too close to someone and the need to flee. I get it. Completely. But here is the thing, he never gives up on Georgia. He keeps coming back and challenge her and she cannot deny how she feels. At least not in the long run.
I wish people were more like Logan. That they would fight for that girl even when she tries to push them away. To keep trying and not giving up after the first obstacle or because it takes too much effort.
Wild
is an incredible book. As I said, I think I read it at least 3 times already in this year. And it's only March. It's full of passion, temper and wild romance and love. And there is a kink club as well! This book is made of awesome and I cannot recommend it enough. Pick it up and read it. It's a wild journey you will never regret.