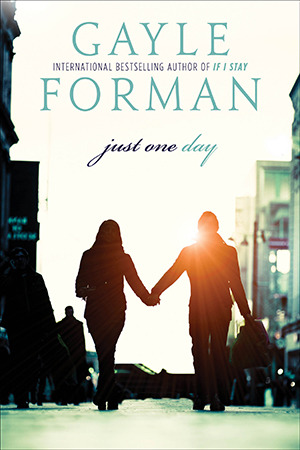 Just One Day
by Gayle Forman
Published on August 20th 2013
Speak, 369 pages
Allyson Healey's life is exactly like her suitcase—packed, planned, ordered. Then on the last day of her three-week post-graduation European tour, she meets Willem. A free-spirited, roving actor, Willem is everything she's not, and when he invites her to abandon her plans and come to Paris with him, Allyson says yes. This uncharacteristic decision leads to a day of risk and romance, liberation and intimacy: 24 hours that will transform Allyson's life.
A book about love, heartbreak, travel, identity, and the "accidents" of fate, Just One Day shows us how sometimes in order to get found, you first have to get lost. . . and how often the people we are seeking are much closer than we know.
- goodreads.com description
"Part of me knows one more day won't do 
anything except postpone the heartbreak.
But another part of me believes differently.
We are born in one day.
We die in one day.
We can change in one day.
And we can fall in love in one day.
Anything can happen in just one day."
This book was absolutely brilliant. I loved it. 
I read the Just One Year as well. But Just One Day is my absolute favourite. Allyson's journey of discovery of the wonderful place called life was just mesmerising. Sometimes a bit painful as it hit a little too close to home.