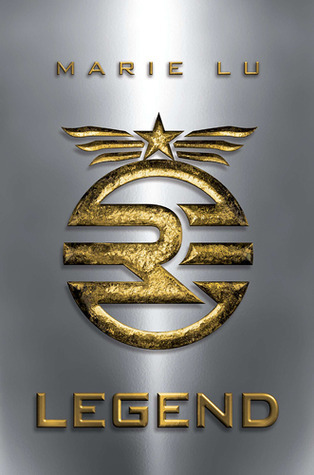 Legend
Legend #1
by Marie Lu
Published on November 29th 2011
Putnam Juvenile, 305 pages
What was once the western United States is now home to the Republic, a nation perpetually at war with its neighbors. Born into an elite family in one of the Republic's wealthiest districts, fifteen-year-old June is a prodigy being groomed for success in the Republic's highest military circles. Born into the slums, fifteen-year-old Day is the country's most wanted criminal. But his motives may not be as malicious as they seem.
From very different worlds, June and Day have no reason to cross paths - until the day June's brother, Metias, is murdered and Day becomes the prime suspect. Caught in the ultimate game of cat and mouse, Day is in a race for his family's survival, while June seeks to avenge Metias's death. But in a shocking turn of events, the two uncover the truth of what has really brought them together, and the sinister lengths their country will go to keep its secrets.
- Goodreads.com description
Oh man, this reminds me again and again why I freaking love dystopia books so fucking much. Loved this book. Nothing but praise to God, or in this case, Marie Lu, cause holy shit this book is incredible.
The characters, the writing, the action, the emotions, the world-building. I was positively blown away!
The main female character is June, and she is incredible. She is so smart and attentive to details. And fierce, June seriously knows how to kick ass. This girl is probably the most loyal character I have ever encountered in young adult books. And she does what is right and not what is easy, and that is great.
The leading male character is Day. He is too much of a complex character to even begin to describe him. He could be called the dystopian Robin Hood. He does what is right for people and he fights the system any chance he gets.
An interesting fact about Legend is that even when the two main characters make some big mistakes - which I must say, are rare - you can't blame them. You just can't. You can only understand them and hope that everything will turn out ok. There are no rush decisions, only calculated logic behind their actions. And they are both so deep. While reading you can see how they think and kind of calculate their actions, but they are still such a mystery - which makes this captivating story even better.
Anyway, this book is made of awesome. Do yourself a favour and pick it up ASAP. Honestly, I have no idea what took me so long to pick this book up. But the consolation is, that in the end I finally did. And I am so glad cause this book really blew my mind!
The dystopian world that Marie Lu built will really blow your mind!