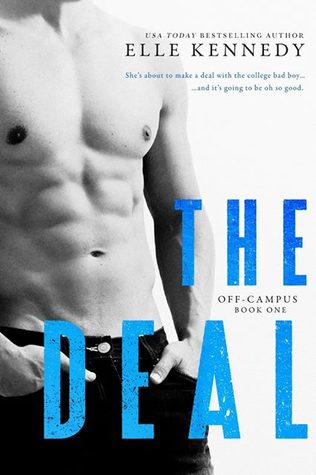 The Deal
Off-Campus #1
by Ella Kennedy
Published on February 24th 2015
She's about to make a deal with the college bad boy...


Hannah Wells has finally found someone who turns her on. But while she might be confident in every other area of her life, she's carting around a full set of baggage when it comes to sex and seduction. If she wants to get her crush's attention, she'll have to step out of her comfort zone and make him take notice... even if it means tutoring the annoying, childish, cocky captain of the hockey team in exchange for a pretend date.
...and it's going to be oh so good.
All Garrett Graham has ever wanted is to play professional hockey after graduation, but his plummeting GPA is threatening everything he's worked so hard for. If helping a sarcastic brunette make another guy jealous will help him secure his position on the team, he's all for it. But when one unexpected kiss leads to the wildest sex of both their lives, it doesn't take long for Garrett to realize that pretend isn't going to cut it. Now he just has to convince Hannah that the man she wants looks a lot like him.
- Goodreads.com description
"
I never expected her. Sometimes people sneak up
on you
and suddenly you don't know you ever lived without them."
Holy shit, this book was abso-fucking-lutely amazing. It has everything! Chemistry, non-bullshit-drama, awesome sex scenes and a twist that wasn't cheesy or eye rolling. It felt real, believable.
Hannah. Oh, Hannah was such a nice character! It was very easy to relate to her. I really liked her and all the decisions that she made. There was no bullshit with Hannah. She was honest and raw and perfect.
Garrett Graham. Holy mother of God. This guy. This panties melting guy. I fucking loved him! He was funny, sarcastic, straight-forward,
typical popular college guy - the guy
I
wished for the past 2 year that I would meet at my University. But as much as believable as he was, I suppose these kind of guys only exists in romance novels, sadly. But hey, a girl can wish!
The writing was perfect! For the first time, the double POV did not bother me at all. The story runs smoothly, and I didn't feel like cheering for one side or the other. I cheered for them both.
I wish all the New Adult books would be like this one. I loved every second of it. So, if you are searching for a New Adult book filled with great chemistry, non-bullshit-drama, real life issues, relatable characters and all that topped up with the sexiest steamy scenes.. The Deal is the perfect book for you!