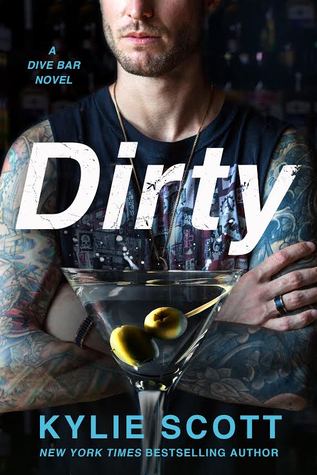 Dirty
Dive Bar #1
by Kylie Scott
Published on April 19th 2016
Martin's Griffin, 288 pages
The last thing Vaughan Hewson expects to find when he returns to his childhood home is a broken hearted bride in his shower, let alone the drama and chaos that comes with her.
Lydia Green doesn't know whether to burn down the church or sit and cry in a corner. Discovering the love of your life is having an affair on your wedding day is bad enough. Finding out it's with his best man is another thing all together. She narrowly escapes tying the knot and meets Vaughan only hours later.
Vaughan is the exact opposite of the picture perfect, respected businessman she thought she'd marry. This former musician-turned-bartender is rough around the edges and unsettled. But she already tried Mr. Right and discovered he's all wrong-maybe it's time to give Mr. Right Now a chance.
After all, what's wrong with getting dirty?
- Goodreads.com description
"Trust me, never mock a romance book," said Mal with all the
zest of a manic street preacher. "You have no idea the amount
of good they can do for you between the sheets and on the street.
If you love your girl? Buy her books."
I fucking love Kylie Scott! Her books are made of steamy awesomeness! I read the Stage Dive series and absolutely loved it! Her characters are funny, real, and somewhat deep. And there is no drama.
This is a spin off series.
It was an awesome and hilarious thing to be in Lydia's head. She rocked as the main character. She was nice, and real and very practical. I really liked her. The book starts with her wedding day. And literally before the ceremony, she gets a video of her future husband banging his best man. Talk about awkward. What would you do? I would run like hell. And she did too. Climbed a fence in the wedding dress and all, and ended up in a bath tub at the neighbor's house. I am not gonna spoil anything but that scene was fucking hilarious.
Vaughan was another story. He was this awesome musician, but his band broke up, so he is trying to figure out what to with his life. That's why he decided to come home. And find Lydia in his bath tub.
The two of them had a great dynamics. The chemistry was good. They both ended up working at Vaughan's sister Dive bar. The side characters were cool too. I liked it cause the story wasn't that predictable and it was somehow real - we have these two characters whose dreams have been shattered, and we can see how they cope with it, how to get back on their feet. Loved it.
Kylie Scott did not disappoint with Dirty one bit! And we got to see the characters from the Stage dive series too which makes this series even more appealing. So, if you are looking for a great New Adult Contemporary Romance filled with music, hopes, and dreams, this is the perfect book for you!