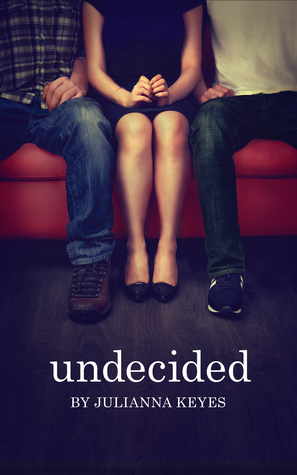 Published on April 4th 2016
Julianna Keyes, 300 pages
Nora Kincaid has one goal for her second year of college: be invisible. Last year's all-party-no-study strategy resulted in three failed classes and two criminal charges, and if she messes up again she'll lose her scholarship. But there's one problem with her plan for invisibility, and his name is Crosbie Lucas: infamous party king, general hellraiser…and her new roommate's best friend.
Crosbie's reckless reputation and well-known sexcapades aren't part of Nora's studious new strategy, but as she's quickly learning, her new plan is also really boring. When Crosbie's unexpected gestures of friendship pull her head out of her books long enough to see past his cocky veneer, she's surprised to find a flawed and funny guy beneath it all. The muscles don't hurt, either.
But as Nora starts to fall for Crosbie, the weight of one of last year's bad decisions grows even heavier. Because three failing grades and two misdemeanors are nothing compared to the one big secret she's hiding…
- Goodreads.com description
Crazy party girl Nora no more. Instead, we have Nora Bora 2.0. This was quite an interesting book. I really liked it. We see a girl that almost failed her first year in college but is back full on with the intention to make amends. Learning from past mistakes. Loved it.
Nora used to be boring all the time. Until she got to college where she decided to literally screw it and became a party animal. Hilarious. I did that too (but I aced all my exams too). So yeah, now she has to study double hard to make it up for the first year. So she decides so reply to this ad about the roommate "who's studious, quiet, and doesn't like to party". She gets to there and comes face to face with the most popular guy in college. The one she had a one night stand with on the night all hell broke loose. Ouch.
The incredulous thing about Nora's amazing first year being a party animal is that.. no one remembers her. Which to me is completely absurd. How is it possible that no one remembers her? How is it possible that the guy she had sex with doesn't remember her? Geez.
Crosbie. Crosbie is the best friend of the most popular guy, Kellan (the one Nora had sex with and he doesn't remember her). He is sweet and all muscles. And apparently really likes Nora. Oh well. You might see who things can get complicated at this point cause uh huh.
Anyway, the romance was good. The sexy scenes were good too. Being in Nora's head was pretty cool. She is smart and scared her past is gonna come up and she tries her best no to let that happen. It's was funny how the guys were trying to make her go to parties thinking she was shy and quiet when she was the complete opposite the year before. But because they don't remember her, they can't know, can they? Hilarious.
Overall this Undecided was funny and entertaining. I really enjoyed reading it. So if you are looking for a refreshing New Adult Contemporary Romance, I would highly advise you to pick this book up!