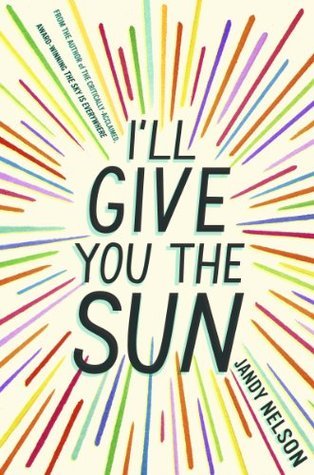 I'll Give You the Sun
by Jandy Nelson
Published on September 16th 2014
Dial Books, 371 pages
A brilliant, luminous story of first love, family, loss, and betrayal for fans of John Green, David Levithan, and Rainbow Rowell.
Jude and her twin brother, Noah, are incredibly close. At thirteen, isolated Noah draws constantly and is falling in love with the charismatic boy next door, while daredevil Jude cliff-dives and wears red-red lipstick and does the talking for both of them. But three years later, Jude and Noah are barely speaking. Something has happened to wreck the twins in different and dramatic ways . . . until Jude meets a cocky, broken, beautiful boy, as well as someone else—an even more unpredictable new force in her life. The early years are Noah's story to tell. The later years are Jude's. What the twins don't realize is that they each have only half the story, and if they could just find their way back to one another, they'd have a chance to remake their world.
This radiant novel from the acclaimed, award-winning author of The Sky Is Everywhere will leave you breathless and teary and laughing—often all at once.
-
Goodreads.com description
"Reality is crushing. The world is a wrong-sized shoe.
How can anyone stand it?"
Sadly I never wrote a review about it, but let me tell you that

The Sky Is Everywhere, is one of the most beautiful books ever written.

Jandy Nelson

builds up her books with such beautiful writing is astonishing, really. And always, always about very important and tragic things that could happen to any of us.
This book is beautiful. Raw, and real.
It's written in two POVs, by both twins. But it keeps switching between the 16-years old Jude, and the 13-years old Noah. It's like reading two parallel stories, that are entwined, and then come together in the end.
It is a bit difficult to describe the main characters as they change so much depending on which age you are reading about. At the beginning, Noah is an artist. He paints in his mind all the time. He is an introvert. Jude is your typical sunshine beach girl, who is beautiful and vain. But as I said, this is before. After they become completely different people. It's a bit difficult to explain.
As I mentioned, the writing was absolutely beautiful. Funny how Noah at 13 was so knowledgeable about many things, and the words he used to describe the world around him. Jude was different. I must say I preferred Noah's POV, maybe because it was more dreamy, and filled with less guilt?
The only thing in this book that annoyed me a little was the shift of POVs because you get so used to Noah's, and then it switches. Or, the story finally becomes intriguing and pooof it changes POV. But in the end I got it, I understood.
Either way, if you are in the mood for a heart-breaking, somewhat realistic YA, I highly suggest you read this book. There is so much sadness in this book. It is not a light read, and it will leave you will all these feels, but in the end, it's all going to be worth it. It's a book about how sometimes good people make bad choices, it's about living with those choices, it's about regret and guilt, it's about love, it's about forgiving others, and yourself.