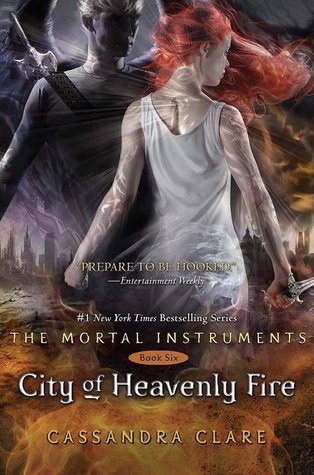 City of Heavenly Fire
The Mortal Instruments #6
by Cassandra Clare
Published on May 27th 2014
Margaret K. McElderry, 725 pages
ΕRCHOMAI, SEBASTIAN HAD SAID.
I am coming.
Darkness returns to the Shadowhunter world. As their society falls apart around them, Clary, Jace, Simon and their friends must band together to fight the greatest evil the Nephilim have ever faced: Clary's own brother. Nothing in the world can defeat him — must they journey to another world to find the chance?
- Goodreads.com description
I finished it last night and I cannot even.. it blew my mind. Cassandra Clare is a genius and she is awesome and amazing and has such a masterpiece of a mind that wow, just wow. Let me tell you, this book didn't disappoint one little bit. It was perfect. Almost as perfect as Clockwork princess was.
Clary was super badass. Her gift really is powerful.
Jace, oh, Jace. You really are a book boyfriend. And I really wish you were real.
Our gang is as much fun as it used to be. I still found myself laughing like crazy through the dialogues. It was hilarious.
I wish I could say more.. but after waiting for this book for 3 years, I will be damned if I spoil this book for you. Go ahead, read it and enjoy the journey. It's a fantastic one.