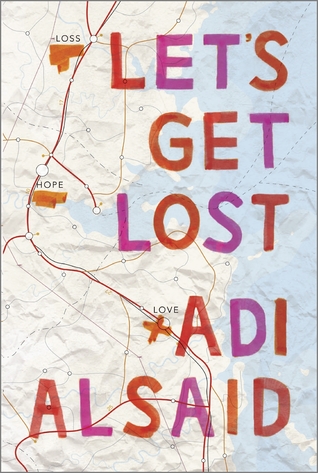 Let's Get Lost
by Adi Alsaid
Published on July 29th 2014
Harlequin Teen, 338 pages
Five strangers. Countless adventures. One epic way to get lost.
Four teens across the country have only one thing in common: a girl named Leila. She crashes into their lives in her absurdly red car at the moment they need someone the most.
Hudson, Bree, Elliot and Sonia find a friend in Leila. And when Leila leaves them, their lives are forever changed. But it is during Leila's own 4,268-mile journey that she discovers the most important truth—sometimes, what you need most is right where you started. And maybe the only way to find what you're looking for is to get lost along the way.
- Goodreads.com description
"Well, everyone needs at least one long road trip in their lives."
Wow. This book was definitely different. I mean, five characters altogether? And made up to be meaningful? Quite awesome.
I love the way the author wrapped it together. How Leila touched deeply all these people on her road trip to see the Northern Lights. And it felt like nothing was really difficult for her, as in, she put the effort in fixing all those lives. I thought it was inspiring. I mean, we can all help a stranger like that and all it took was a little gas and good spirit and attitude. I thought while reading, wow, it takes so little to help others, but it makes huge changes in the lives of others.
Leila was a nice character. The only thing is, that her story comes at the end. So through the whole book, I couldn't really wrap my mind around who Leila is. What is her story? But then again, I suppose that made sense too, cause she was the girl who put others first. Therefore it makes sense that her story came at the end.
The writing was great. Every life Leila touched was meaningfully written. You could say there were no minor characters. All these people made the book as it is - deep and inspiring.
So, if you are looking for a road trip book YA book, that will leave you inspired and hopeful for the future, I highly recommend you to pick Let's Get Lost up. You won't regret it.