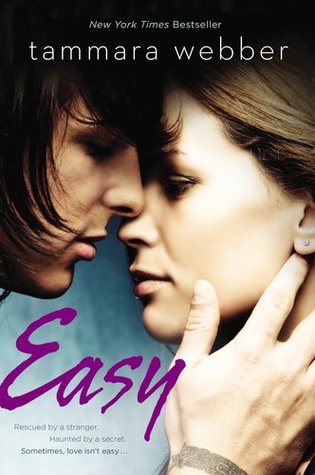 Easy


by Tammara Webber
Published on November 6th 2012
Penguin Berkley, 321 pages
When Jacqueline follows her longtime boyfriend to the college of his choice, the last thing she expects is a breakup two months into sophomore year. After two weeks in shock, she wakes up to her new reality: she's single, attending a state university instead of a music conservatory, ignored by her former circle of friends, and failing a class for the first time in her life.


Leaving a party alone, Jacqueline is assaulted by her ex's frat brother. Rescued by a stranger who seems to be in the right place at the right time, she wants nothing more than to forget the attack and that night - but her savior, Lucas, sits on the back row of her econ class, sketching in a notebook and staring at her. Her friends nominate him to be the perfect rebound.


When her attacker turns stalker, Jacqueline has a choice: crumple in defeat or learn to fight back. Lucas remains protective, but he's hiding secrets of his own. Suddenly appearances are everything, and knowing who to trust is anything but easy.


- Goodreads.com description
I read Easy during the Read-a-thon. I was around when the hype about this book started. It was back in 2012, and this book was on my TBR list since then. I am glad readathon gave me finally the kick to read it. This book definitely lived up the hype.
Jacqueline is one of those girls who had a boyfriend forever. She followed him to college, and he broke up with her in the first semester, because he wanted to be with other girls and experience college life fully. Okay. Jacqueline is ofcourse crushed, cause really, who wouldn't be? But she was cool. Not the wallowing type or the annoying type. She woman(-ed) up and moved on. She met this guy in Economic class and things start to get interesting.
"I'd always disparaged the games people played in pursuit of love – or the next hook up. The whole thing was a competition to see who could get how far, and I could never figure out if there was more luck or skill involved, or some unknowable combination of the two. People rarely said what they thought, or revealed how they felt. No one was honest."
I really liked the message of this book – it was the empowerment of women. After the attack, Jacqueline went to self-defense class. And the support her friend gave her and the other girls – it screamed girl power! Victims always seem to think is their fault for what happened to them, and I will take this moment to tell you: IT'S NOT YOUR FAULT. I really liked the speech of the sorority girl Katie. It's a long speech so I will just highlight the last part:
"So Buck can enjoy sitting in a cell contemplating how he blew up his life. That dickwad hurt two people sitting at this table. And you're worried about who'll look bad if they tell? Screw that. Dean and D.J. and Kennedy and every frat boy on this campus can all go fuck themselves. Are we sisters or not?"
Rape is a sensitive topic, but I am glad literature has started to tap into it. It's important that people know they are not alone and that it's not their fault.