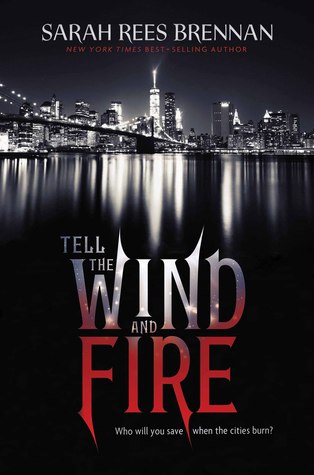 Publication date: April 5th 2016
In a city divided between opulent luxury in the Light and fierce privations in the Dark, a determined young woman survives by guarding her secrets.
Lucie Manette was born in the Dark half of the city, but careful manipulations won her a home in the Light, celebrity status, and a rich, loving boyfriend. Now she just wants to keep her head down, but her boyfriend has a dark secret of his own—one involving an apparent stranger who is destitute and despised. Lucie alone knows the young men's deadly connection, and even as the knowledge leads her to make a grave mistake, she can trust no one with the truth.
Blood and secrets alike spill out when revolution erupts. With both halves of the city burning, and mercy nowhere to be found, can Lucie save either boy—or herself?
Celebrated author Sarah Rees Brennan weaves a magical tale of romance and revolution, love and loss.
- Goodreads.com description
Oh my god, this book is Mind. Blowing. And now I feel the pressure to do this book justice, and write a mind blowing review, too. Plus, I've had the pleasure to meet the lovely Sarah Rees Brennan in person, so make that a double pressure.
As a girl who had never read Dickens' The tale of two cities (although I have been promising myself to do so for the past 3 years), please don't hold it against me that I didn't see the similarities. I've read them in the author's note – and finally got the push to read The tale of two cities in the foreseeable future (this time for real, I promise).
The story was intense, and aside from the magic, it felt very real and possible. I found myself near the end of the book at 5.30am, and man, I just couldn't put this book down.
The action was exhilarating, the suspense and the mystery were so catchy, and I kept thinking "what on earth is going to happen next!?" The characters were so well defined, and it was difficult to draw the line between good and evil, and I thought that was a powerful thing. Nothing is ever black and white in life, right? But conveying this into a book? Pure. Awesomeness.
The world building was so good. All is happening in New York, but it's a very different New York. It is divided
into the Dark side and the Light side. The Dark side is »bad«, and the Light side is »good«. Strange things start happening when you stop thinking in the term of »us« against »them«. And here is where the main character Lucie comes in.
Lucie is known as the Golden Thread in the Dark, an innocent girl who stood up to the system to save her father. A symbol of hope. She was born in the Dark city and lived there all her childhood. But we meet Lucie in the Light city, where she has been staying for the past 2 years. We see the Lucie who struggles to understand who she is, where her loyalty stands, and how to accept the things she did that made her who she is. I could not always agree with her decisions, but I could understand why she did the things she did.
The boys. Ethan and Carwyn. Same face, different boys. One born in the Light, the other out of darkness. I liked them both in their own way. But I liked Carwyn better because he was mysterious, and a bad boy, and I have a thing for bad boys. Both characters have developed so much through the book.
The writing was beautiful. The plot was well developed. The representation of power and how we relate to it – depending on which side we stand – is presented so greatly in Tell the wind and fire, that it made me reflect on so many things that are happening the world, the real world. This book is powerful. The main characters were perfect with all their flaws, and secrets, and fears. The secondary characters were well developed, too, which I appreciated greatly. All in all, this fantasy book was a roller-coaster of emotions, and full of action. I loved every second of it.
In the author's note I read this paragraph, which in my opinion is so powerful, that I want to share it with you:
More than that, I hope this story of divided cities and divided human hearts inspires you to create something, to forgive yourself for something you blamed yourself for, or simply to wisper to yourself, like a secret the world will learn, that you have a great heart and can accomplish great things.
It did. Thank you, Sarah Rees Brennan, for this amazing-mind-blowing book.
And thank you to NetGalley and Clarion Books for the ARC.