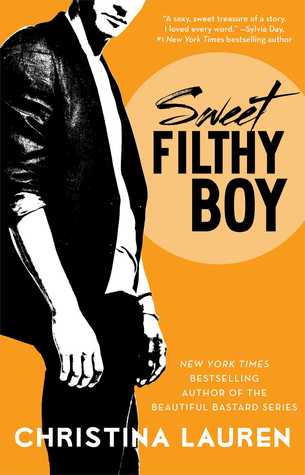 Sweet Filthy Boy
by Christina Lauren
Published on May 13th 2014
Gallery Books, 416 pages
One-night stands are supposed to be with someone convenient, or wickedly persuasive, or regrettable. They aren't supposed to be with someone like him.
But after a crazy Vegas weekend celebrating her college graduation—and terrified of the future path she knows is a cop-out—Mia Holland makes the wildest decision of her life: follow Ansel Guillaume—her sweet, filthy fling—to France for the summer and just…play.
When feelings begin to develop behind the provocative roles they take on, and their temporary masquerade adventures begin to feel real, Mia will have to decide if she belongs in the life she left because it was all wrong, or in the strange new one that seems worlds away.
- Goodreads.com description
"What we know is the unrequited possibility, the temptation of the idea.
The make-believe. The adventure. But when you choose the adventure,
I am just gonna throw it out there. This book is one of the best contemporary new adult romances I've read this year. Ok, scratch that. One of the best books I've ever read. Yes, it was that good and more.
The story takes place in Vegas, Paris (!!), and San Diego. I've been reading quite a few books which were based in Paris when I was in Paris, but hell, I went into this book and I didn't even know it was gonna be based in Paris! Imagine my surprise! I was so happy and nostalgic and it made me miss Paris even more.
I've said it before and I meant it, Christina and Lauren are awesome authors! I freaking love their stories. They are full of witty main female characters, panties-dropping gorgeous male characters, and the stories always have a twist, that is not all that predictable. Top all this with swoon worthy romance and chemistry and... bingo. These two really know how to do it.
Mia is awesome. Although through all the book she keeps
saying how shy and quiet she is.. with Ansel she is not. She is witty and funny and crazy sometimes and
courageous and rational and just pure awesome. I really liked her. I honestly have nothing bad to say about her.
Ansel. PLEASE, GOD, LET THIS KIND OF MEN EXIST IN THIS WORLD (!!). Ansel.. well, I am a sucker for French language and French men. I admit that. Cause well, it's true. The accent is so beautiful that I could listen to it all day long and be like "OMG please never stop talking". Plus they have this charm that.. ugh. And, Ansel had it all. I could practically hear his accent on the pages of the book. Surreal.
The romance was sweet and funny and drop-dead wow. Loved it! The sex scenes were perfect, and the role-playing was intriguing. And there was lots of it. Not too much, not too little.. just perfect.
The book is very readable. I finished it in 2 days. Which started with me reading in the evening and ended up with me at 5am being like "Seriously? I really need to sleep if I ever want to go to work today". Such a waste. If I didn't need to work that day, I swear, I would have finished it no matter what. It was soo good. I fucking love this kind of romance books. They make me feel alive.
"I want to love all of my life as much as I love this night."
Without further ado
, please read this book. If you are a fan of contemporary romance novels, please read this book. It's so fucking good! You won't be disappointed, I promise! ;)