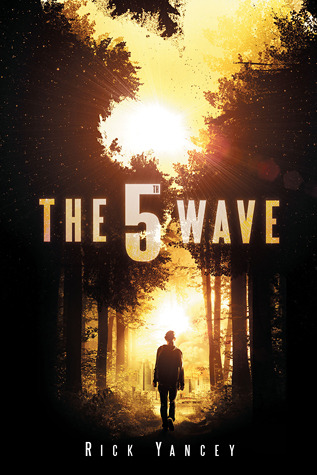 The 5th Wave
The fifth Wave #1
by Rick Yancey
Published on May 7th 2013
Putman Juvenile, 480 pages
After the 1st wave, only darkness remains. After the 2nd, only the lucky escape. And after the 3rd, only the unlucky survive. After the 4th wave, only one rule applies: trust no one.
Now, it's the dawn of the 5th wave, and on a lonely stretch of highway, Cassie runs from Them. The beings who only look human, who roam the countryside killing anyone they see. Who have scattered Earth's last survivors. To stay alone is to stay alive, Cassie believes, until she meets Evan Walker.
Beguiling and mysterious, Evan Walker may be Cassie's only hope for rescuing her brother—or even saving herself. But Cassie must choose: between trust and despair, between defiance and surrender, between life and death. To give up or to get up.
- Goodreads.com description
"Don't you get it yet? The minute we decide that
one person doesn't matter anymore, they've won."
The 5th wave is a book I've been meaning to read for a while now. And I am very happy I finally got around to it. And well, I kind of wished I would have read this sooner. This book is awesome!
Alien invasion!! Scary shit, but this book put the scary to a complete new level. 7 billion people died. I cannot even comprehend how big this number is. And not knowing anymore who is the enemy and how isn't was even scarier.
Cassie is an incredible heroine. She is fierce and strong and she doesn't give up. She made promise to her brother and she has to live up to it. She has to. So she keeps surviving even when the odds are really bad.
Ben Parish. The sweet football star boy. Becoming a soldier and ready to fight the enemy. But who is the enemy, really?
This book is written in different points of view. Sometimes it was hard to understand what's going on. Actually, till more than half of the book I still didn't know who the actual enemy was. Intriguing.
Overall though, I wish there was more to the story. I had a feeling this book was just a pre-sequel to the actual story. The battlefield is laid out and the big battle is yet to begin. I am looking forward to read the sequel.
Fans of dystopia and post apocalyptic stories will love The 5th wave. I know I did.